Introduction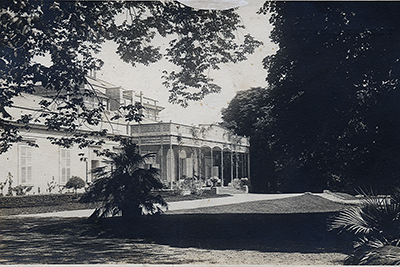 The history of the estate, of which the chateau forms the centre, dates back nearly two hundred years. In 1834, Count Georges Károlyi (1802-1877) wishing to acquire a seat in the west of Hungary, took over the mortgage on the lands of the former owner, Baron Imre Perényi and completed the purchase in 1853. He pulled down (apart from the cellar) the little baroque manor house which stood on the site of the present chateau and built in its place, according to the plans of the Austrian architect Heinrich Koch, the more imposing building he desired.
At the beginning of the twentieth century, his grandson, Count Joseph Károlyi(1884-1934), the grandfather of the present tenant, sensitively rennovated the chateau, giving the central court its present look, with its semi-circular facade and installing all the 'modern comforts' of the age, electricity, central heating, telephones.
The chateau and the surrounding estate was nationalised without indemnity, after the second world war, and the Károlyi family, ruined and forced to emigrate, settled in France. During this period the chateau was first allocated by the Hungarian communist authorities to the gas company as a distrbution centre, then it was converted into a home for abandoned children. For lack of maintenance, the children's home was closed in 1979 and the chateau was on the brink of complete ruin when the family of the former owners returned to Hungary at the beginning of the 1990s.
Count Georges Károlyi (born 1946) wanting to take the lead in the re-birth of the chateau, agreed with the Hungarian State, which remains the landlord, a 99 year lease of the property and undertook its restoration. In accordance with the financial resources available and with the help of the Hungarian government and the European Union, the work lasted for fifteen years. The restoration was finally completed in 2011.