The Ferenc Fejtő library
Opening hours: Monday to Friday 9: 00-18: 00
The Library contains more than 7,000 volumes in French, Hungarian, English, Italian and German in the following areas.
Philosophy and linguistics;
Religious doctrine, particularly Judaism, life in the Shoa and Jewish communities in Central European countries during communism;
Political doctrine, of which there is a considerate amount on socialism, communism (especially Leninism and Trotskyism), social democracy, etc;
European history from the 18th century, especially in Central Europe, with considerable amount of books about Hungary and Austria (thanks to additions from the Jacques Droz Collection) and Germany (thanks to donations from BILD in Paris) and France;
The political history of the major European countries and totalitarian political régimes, as well as an important collection about opposition to totalitarian régimes in the countries, including banned publications from eastern countries and the Soviet Union;
A considerable collection on the questions of human rights and about concentration camps (Naci, Stalinist and Chinese);
International relations, especially World War I and subsequent peace treaties, and the Cold War;
Important sociological collection;
A special collection on China and Chinese-Soviet relations.
The collection had been continually supplemented by donations from Ferenc Fejtő and also by more recently published works separate from Ferenc Fejtő's personal collection. Some of these volumes are unique in Hungary.
Press folder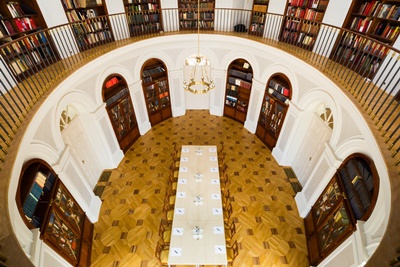 Associated with the library is also a collection of press releases under process, which touches upon all the topics examined by Ferenc Fejtő, and complement the book collection. The press cuttings go back to 1945, or even before the war. The cuttings originate from the more importent western and Hungarian newspapers, and they put a different complexion on the various events. In certain cases they have added notes. They are classified according to themes and in chronological order, in accordance with the library's classification system. The files include numerous extracts as well as notes from various conferences and colloquies. We draw attention to the unique nature of certain documents, especially news agency reports as well as information from Free Europe Radio and reports from central European news agencies before 1989.
The files can be used in the library and photocopies can be made.
Finally, readers have at their disposal an important periodical collection(more than 350 titles but incomplete) about French, English, Italian and Hungarian social science in alphabetical order. There are also Hungarian literature periodicals available. We endeavour to make up for the shortcomings which may occur in the collection. We are to provide the researchers with a full list. Naturally the collection will be added to whenever possible.
Contact:
In Fehérvárcsurgó

Tel.: +36 21 / 311 0426
E-mail: info@karolyikastely.hu

E-mail: angelica@karolyikastely.hu
Website: www.karolyi.org.hu
---
Ferenc Fejtő's personal works:
The József Károlyi Foundation is bringing about a special collection of Ferenc Fejtő's works, and is classifying his personal archives. The consultation is possible, Ferenc Fejtő or the Scientific Committee will consider the application. The archive includes the collection on the record comments about Ferenc Fejtő's work as well as professional and private letters, not to mention personal notes, handwritten and typed works and articles.
---
Other archives:
The foundation looks after part of Aurél Kolnai's archives which is still to be processed. We warmly welcome anybody interested in researches in this field.