aristocratic comfort for you!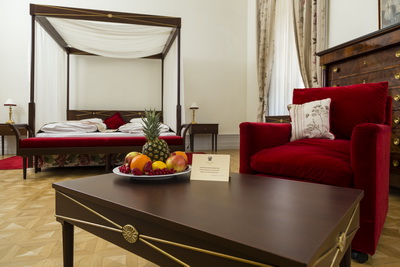 As a hotel, the chateau now offers eighteen double rooms and two suites, with the possibility of an extra bed in most of the rooms.
The rooms are situated in the two wings around the central courtyard and are named either after the members of the Károlyi family who occupied them, or after features of the local landscape. They are all equipped with a private bathroom, a minibar, a flat-screen television, internet access either by cable or Wifi and a safe large enough to take a portable computer.
---

gaja rooms
The 4 "Gaja" rooms, named for a small river flowing some 300 metres from the chateau , are situated on the ground floor of the left-hand wing.
---

BAKONY and VÉRTES rooms
The 6 "Bakony" rooms on the top floor of the left wing and the 4 "Vértes" rooms on the top floor of the right wing are named after two hilly ridges that overlook the village. All the top floor rooms have airconditioning.
---

DAISY and PISTA apartment
On the ground floor of the right wing, "Daisy" bears the name of the present tenant's grandmother, and the 2 "Pista" rooms that of his father, Pista being the Hungarian abbreviation for Istvan/Stephen. "Daisy" , with its fourposter bed, is the favourite room with newly weds. The little drawing room of the suite "Pista 2" is the only room in the chateau where the frescoed ceiling was able to be preserved.